What Happens If You Don't
Show Up For Your Call…
https://vimeo.com/499742986
Here's What To Expect Next…
First – We've received your booking and your application and are reviewing it now. We'll call you at the EXACT time you booked in for…
Second – Make sure you've set aside time to do the homework below and also are in a quiet room with NO distractions at the time of your call with something to take notes with close by!
Do The Following For Your Homework BEFORE The Call So You Can Get The Most Out of The Call
Step #1. Read Clarity For Coaches Guidebook Entirely
Click here or the book image below to read it.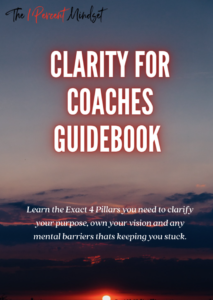 Step #2. Read and Watch The Following Case Studies
Back In 2017, I Decided To Do A Thank You Video For All The Love Everyone Showed Me Helping Them Get To The Next Level 
Now, It's Your Turn To Be Our Next Success Story… We Look Forward To Speak To You Soon!
Need Help or Have A Question Before Your Call? Email Us At: 
admin@the1percentmindset.com